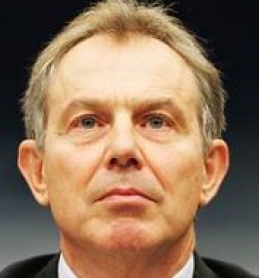 Putting Tony Blair on trial would be much too cruel. The man is ill, delusional, quite possibly to the point of madness. What he needs most of all is psychiatric help. Any doubts I might have had about that diagnosis were removed by his six-hour presentation to the Chilcot Inquiry of his reasons for joining the neo-conned "Dubya" Bush in the war on Iraq.
Without understanding why, I never thought Blair was Bush's puppet. Now, thanks to the access Blair gave us to the workings of his mind for six hours, I do understand. He was ahead of Bush in the war on terrorism game because he is a neo-con, the real thing, whereas Bush had to be won over, conned, by America's mad men. Blair didn't. He was always with them in spirit. After 9/11, immediately after it, probably while the towers were still collapsing, their agenda was his agenda.
Though the Chilcot Inquiry is concerned only with Iraq – how Blair's government made the decision to go to war and what lessons should be learned – Blair could not resist beating the drum for war on Iran. He did that four times. One might have been listening to John Bolton or any of America's or Israel's lunatics.
When he was going on about terrorism being a threat to all, he threw in: "It's a constant problem for Israel. They get attacked." That there is a cause-and-effect relationship between Israeli occupation and Israel's frequent demonstrations of state terrorism and a degree of violence directed at the Zionist state from time to time is not something Blair the neo-con can, or ever will, get his deluded minded around.
At one point during his display of insufferable, Zionist-like self-righteousness, Blair denied he had said in an interview with the BBC's Fern Britton that he favoured regime change in Iraq. "I didn't use the words regime change in that interview," he said to the Chilcot Inquiry. He was telling the truth in that he did not use those actual words. What then did he say on camera to Fern Britton on 13 December 2009? She asked him if knowing what we all know today (that Saddam Hussein did not possess weapons of mass destruction) would he still have gone to war. Blair replied, "I would still have thought it right to remove him. If that is not regime change, what is?!
Blair still insists that the invasion of Iraq and the removal of Saddam Hussein has "made the world a safer place". The reality is that Blair and Bush together were the best recruiting sergeants for violent Islamic fundamentalism in many manifestations, not only the Al-Qaeda franchise.
Most amazing of all was that Blair declined an invitation to express any regret. He couldn't even bring himself to say he regretted the loss of the lives of British soldiers and a great number of Iraqis (somewhere between 100,000 and 600,000), mainly civilians. To my way of thinking that makes him less than fully human.
Blair described Saddam Hussein as "a monster who threatened the world." There's an old English saying, "It takes one to know one."
If you liked this post, then...
Share it with others using this button:
Follow me on Twitter (@alanauthor).