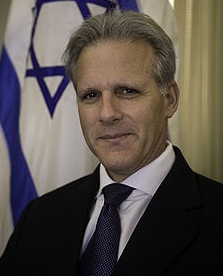 Writing in The Wall Street Journal (which has a preference for Israeli propaganda), Michael B. Oren, Israel's ambassador to the U.S., said that advancing a peace process now depends not on Netanyahu and his government or President Obama but the Palestinians.
Under the headline Israel's Settlement Freeze, the essence of Oren's case was this.
"What Mr. Mitchell and Mrs. Clinton understand, but what the Palestinians miss, is that Mr. Netanyahu has shown more flexibility on this issue than any previous head of his Likud Party, which is staunchly pro-settlement. Indeed, he has gone further than any prime minister in limiting a right that many Israelis consider incontestable and a vital component of their national security."
Oren pointed out that on his home front Netanyahu's decision to suspend new Israeli construction has been fiercely criticized, even by members of his own party.
"The prime minister," Oren continued, "has nevertheless persisted – his coalition is among the strongest and most representative in Israel's history – but the opportunity generated by his action will not endure indefinitely. Together with the Obama administration, which has repeatedly asserted its commitment to re-starting talks without preconditions and to achieving a permanent two-state solution, Israelis hope that Palestinians will once again join them in talks. By taking risks and accomplishing the unprecedented, Mr. Netanyahu has demonstrated his commitment to peace. Now the Palestinians must match that dedication and seize this propitious moment."
For the sake of discussion let's ignore the fact that Netanyahu's freeze is only partial; does not apply to occupied Arab East Jerusalem; and that the settlers have been assured that when the freeze ends, it will be back to construction and, by definition, more consolidation of Israel's hold on occupied Arab land.
Now to my headline question.
Again for the sake of discussion, let's assume that Oren does have a point. How then should the Palestinians respond? My suggestion is this.
President Abbas calls a press conference and says something very like the following.
"I am now ready, without preconditions, to sit down and talk with Prime Minister Netanyahu. But I am giving notice of the one question I will ask and to which only a "Yes" or "No" answer is required. The question is this. Prime Minister, in exchange for peace with the whole Arab and wider Muslim world, is your government prepared to withdraw from all Arab land occupied in 1967, including East Jerusalem but on the understanding that if all the parties agreed, it would remain an undivided city and the capital of two states?"
President Abbas could conclude his very short statement with something like this.
"The fact that I have given advance notice of the question may of itself be enough to cause Prime Minister Netanyahu to find an excuse for not meeting with me and blaming me. But the world should know this. Were the two of us to meet, and if he answered my question with a "Yes", we would be kick-starting a real process that would deliver peace for all."
To my readers I say – good idea or not?
If you liked this post, then...
Share it with others using this button:
Follow me on Twitter (@alanauthor).