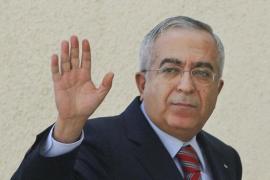 A ridiculous notion some and perhaps many will say. How dare I ask such a question? It was provoked in my mind by an interview with Palestinian Prime Minister Salam Fayyad in The Times (of London) and remarks attributed to him in a BBC World Service news report (broadcast only once so far as I am aware).
He said the Palestinian Authority intends to "bypass" a peace process going nowhere and establish its own de facto state in two years. The obvious implication is that the PA intends to declare a Palestinian state to be in existence on whatever tiny, scattered pieces of land that are not totally occupied and controlled by Israel two years from now.
I think it's not unreasonable to speculate that Israel's deluded leaders would welcome and endorse such an outcome. They could then say to the Palestinians (and the world) something like: "So that's it. Game over. You have your little state and that's your claim settled in full."
It might be that Prime Minister Fayyad thinks – because he's aware that President Obama can't deliver – that the Palestinians have no choice but to make the best with crumbs from Zionism's table. And on that basis he could be hoping that, with time, the crumbs could be made into half a loaf or more. In my view that's wishful thinking of the most amazing kind. And if put into practice, it would result, by default or design (in the sense of collusion with Israel) in a betrayal of the Palestinians.
If you liked this post, then...
Share it with others using this button:
Follow me on Twitter (@alanauthor).