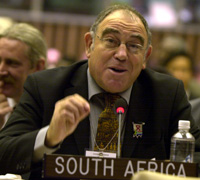 South African Ronnie Kasrils, a leading international campaigner for human rights and humanitarian law, has issued an important statement of his request for charges to be filed against Israelis suspected of international crimes [PDF] for their participation in the planning and execution of Operation Cast Lead (Zionism's war on the Gaza Strip).
For those who might not know who Kasrils is, here's a brief background:
His grandparents were Jewish immigrants from Latvia and Lithuania who fled from Tsarist pogroms at the end of the19th century.
The Sharpeville massacre of black South Africans turned him against white-ruled South Africa's apartheid system and he joined the ANC in 1960.
He came to international prominence after writing in 2000 A Declaration of Conscience by South Africans of Jewish Descent who were against Israeli policies in the occupied territories.
From April 2004 to September 2008, he served as minister for his country's intelligence services.
Kasrils probably knows more than most about White-ruled South Africa's role in assisting the development of Israel's nuclear weapons programme.
If you liked this post, then...
Share it with others using this button:
Follow me on Twitter (@alanauthor).