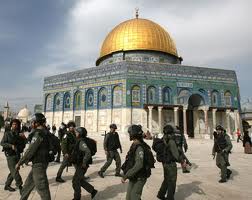 If more proof was needed (some of us think it isn't) that Israeli Prime Minister Netanyahu lives in a fantasy world that exists only in his own deluded mind, his latest verbal assault on the UN Human Rights Council for its decision to appoint and despatch an independent international fact-finding mission "to investigate the implications of the (illegal) Israeli settlements on the civil, political, economic, social and cultural rights of the Palestinian people throughout the Occupied Palestinian Territory, including East Jerusalem" is it.
The Council, Netanyahu said in his fury, has "an automatic majority against Israel", is "hypocritical" and "out of touch with reality". He added that "It should be ashamed of itself."

There is, in fact, some substance to the charge that the UN Human Rights Council is hypocritical. There are many abuses of human rights in many countries which it does not investigate because the African, Asian and Latin American majority on the 47-member Council say "No". So there is most certainly a case for saying that this particular UN body is hypocritical, even out of touch with some realities and, in that context, appears to be obsessed with Israel-Palestine.

But does that mean the decision of the UN Human Rights Council to set up an independent investigation of the implications of Israel's on-going colonization of the West Bank including East Jerusalem should be treated with contempt and not taken seriously?

Netanyahu claims that it does.

In my opinion that Netanyahu claim deserves the judgement delivered about a different matter in a recent article by economist Paul Krugman for the New York Times. He was commenting on the claim by the Republican leadership in general and frontrunner Mitt Romney in particular that the high and rising price of gasoline in America is "thanks to an Obama administration plot." Krugman wrote:

"This claim isn't just nuts; it's a sort of craziness triple play – a lie wrapped in an absurdity swaddled in paranoia."

Netanyahu's purpose was, of course, to encourage other powers led by America to use their influence to kill the UN Human Rights Council's initiative before it takes on real life. And the early signs are in his favour. The U.S. ambassador to the UN in Geneva, Betty King, said the Council's decision "harmed efforts to restart negotiations between Israel and the Palestinians."

That has to be a joke given that there is no prospect of re-starting real and serious negotiations as long as Israel continues to consolidate its occupation of the West Bank, and as long as Netanyahu's position is, in effect, that negotiations must end with the Palestinians surrendering on Israel's terms.

I think it's reasonable to imagine that when Ambassador King made her statement, she was aware that the Obama administration would be required by the Zionist lobby and its stooges in Congress to bully and intimidate the Human Rights Council into aborting its investigation.

While Netanyahu waits to see if the Obama administration will do his dirty work on this occasion, his government has cut all contact with the UN Human Rights Council and announced that it will prevent the Council's team of independent investigators entering Israel or the occupied West Bank from Jordan.

Whichever way you look at it, the signs are that this particular mission of the UN Human Rights Council will be more than D.O.A. (Dead On Arrival). It will most likely be D.B.A (Dead Before Arrival)

In that event one of the questions in my mind will be this.

Will any mainstream Western media institution have the balls to offend Zionism by giving space or airtime to voices expressing outrage at Israel's continuing immunity from what honest investigation would describe as crimes against humanity?

Contrary to what Netanyahu seems to think, the Palestinians are human and do have rights. And they, not Jews, are the victims in the true story of the making and sustaining of the conflict in and over Palestine that became Israel. (As I have written previously, Israeli and many other Jews need to feel they are the victims because victimhood is, it seems, what gives them meaning).

As for the answer to my headline question… Nobody is more out of touch with reality on the ground in the occupied West Bank than Netanyahu.

Footnote

Of the 47 rotating member states of the UN Human Rights Council, 36 voted in favour of the decision to investigate Israel's illegal settlement activities and 10, including the Czech Republic, Romania, Hungary, Poland, Costa Rica, Italy and Spain abstained. The United States was the only country to vote against it. (As golfers say, par for the course).

If you liked this post, then...
Share it with others using this button:
Follow me on Twitter (@alanauthor).