The following is the text of a presentation I made at the London Muslim Centre last night: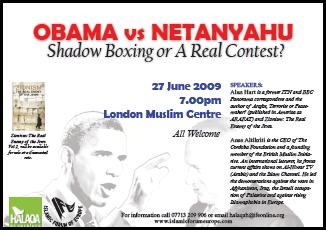 The contestants in the fight of the headline I gave to the title of this talk can best be described as President "Yes, We Can" and Prime Minister "No, We Won't."
I want to start with a positive observation about Obama.
He is, I believe, the first American President to fully understand the real dynamics of the making and sustaining of the conflict in and over Palestine that became the ZIONIST state of Israel. (I emphasized the word ZIONIST because Israel is Zionist not a Jewish state. If it was a Jewish state – by definition one which acted in accordance with the moral values and ethical principles of Judaism, it could not have behaved in the criminal way it has done since its creation, mainly by Zionist terrorism and ethnic cleansing, in 1948).
The main reason why I am convinced that Obama really does understand who must do what and why for justice and peace in the Middle East is his friendship with Rashid Khalidi. For those of you who don't know about him, I'll say this much. Rashid is a New York born, Palestinian-American historian. He's professor of Modern Arab Studies at Columbia University and director of the Middle East Institute of Columbia's School of International and Public Affairs. He's also a prolific writer and a most eloquent public speaker. Rashid Khalidi and Barak Obama were good, close and dear friends. From time to time they dined with each other. It's more than reasonable to assume that during their private conversations over years, Obama was fully informed about the Palestinian side of the story, including the fact – unknown to almost all Americans – that the Palestinians have been ready to accept a two-state solution for more than a quarter of a century.
One good indication of how troubled Zionism was by Khalidi's influence on Obama is in this fact. During Obama's run for the White House, the Zionist lobby and other supporters of Israel right or wrong tried to make his friendship with Khalidi a campaign issue. That friendship, Zionism asserted, was proof that a President Obama would not pursue a pro-Israel policy.
But it wasn't only Obama who came under fire for his friendship with Khalidi. John McCain, the Republication front runner, was also attacked because, in the 1990's, he had served as the chairman of the International Republication Institute. What was so bad about that from Zionism's point of view? Under McCain's chairmanship the institute provided grants of half a million dollars to the Centre for Palestinian Research Studies, to facilitate its work polling the views of the Palestinian people. The problem? Rashid Khalidi was a co-founder of the Centre.
To give you some idea of how difficult to impossible it is for any American president to have a friendship or even a conversation with anybody Zionism regards as an enemy, and all the more so if the perceived enemy is a Jew, I'll tell you a story from my book.
First I'll give you a name – that of Dr. Nahum Goldmann. He was one of the founding fathers of the Zionist lobby. After the obscenity of the Nazi holocaust, no individual worked harder and to better effect than Goldmann to unite world Jewry and secure American support for Zionism. When he died in 1982 he was given a state funeral in Israel because he was one of the five former presidents of the WZO – the World Zionist Organization.
Behind closed doors the same Nahum Goldmann was disgusted by Zionism's collaboration with the Nazis and the WZO's policy of not even trying to resist Hitler. He also tried and failed to persuade Israel's founding father, David Ben-Gurion, not to go ahead with a unilateral declaration of independence when the occupying British left Palestine. Goldmann said that such a decision by Israel's provisional government-in-waiting would amount to a declaration of war on the Arabs. At the time Goldmann believed, and I think he was more right than wrong, that negotiations, which the Americans favoured and were seeking to advance, might well have resulted in Arab agreement to the establishment of a Jewish entity in Palestine, not a sovereign state but an entity which could evolve into a sovereign state if Zionism demonstrated that it posed no threat to the Arabs.
In the 1974 November-December edition of the New Outlook magazine published in Jerusalem, Goldmann wrote the following:
"If we had invested in the Arab problem a tenth of the energy, the passion, the ingenuity, the resourcefulness which we developed to gain the support of Britain, France, the US and Weimar Germany, our destiny in the development of Israel may have been quite different… We were not ready for compromises; we did not regard it (the majority Arab presence) as a major problem… We did not make sufficient efforts to get, if not the full agreement of the Arabs, at least their acquiescence to a Jewish state, which I think would have been possible. THAT WAS THE ORIGINAL SIN."
On the one occasion I met and talked with Nahum Goldmann I was moved close to tears by the way he was trying to handle the guilt he felt on account of the injustice done Palestinians and the enormity of Zionism's crime. And it was obvious that he was shocked to the core of his being by the way in which, for daring to speak the unspeakable, he had been vilified by the defenders of Zionism right or wrong. By hardcore Zionists he was never to be forgiven for refusing to suppress for all time his own moral sense of what was right and wrong. That he fought and won the battle with his own conscience made him, in my view, a man worthy of respect without limit by people of goodwill everywhere.
Nothing better illustrates the contempt Zionism's zealots had for Goldmann's goodness than Prime Minister Begin's response to his death. Begin could not avoid giving permission for a state funeral and Goldmann's burial on Mount Herzl; but he did refuse to attend the funeral. In his place Deputy Prime Minister Simcha Ehrlich said: "We regret that a man of so many virtues and abilities went the wrong way." There could not have been a more callous epitaph for the man who was owed so much by Israel and all Israelis.
But so far as Zionism's zealots were concerned, there was much more to Goldmann's "wrong way" than daring to suggest that Arab acquiescence to the creation of a Jewish entity in Palestine could have been secured in time without resort to war.
In his advancing years Goldmann advocated the need for the creation of a Palestinian state. And he became the leading and most influential Jewish critic of Israel's continuing occupation of Arab land taken in 1967 and the illegal settlement of it. He utterly rejected the claim of Zionist bigots who insisted that Jews had to make the Greater Israel project a reality because God had promised them the land. Goldmann called this thesis "a profanation."
Now to the real point, one of two, of this story.
There was a moment during Begin's first term as prime minister when Goldmann advised President Carter to "break the back" of the Zionist lobby in America. The President had to do that, Goldmann said, if he was to have the freedom to be serious about peace-making in the Middle East.
At the same time Goldmann's message to American Jewry was this: "By misusing its political influence, by giving the Begin administration the impression that the Jews are strong enough to force the American administration and Congress to follow every Israeli desire, they lead Israel on a ruinous path."
Real point number two is this. When Goldmann realised that the Zionist lobby was breaking Carter's back, he requested another meeting with the President. Up to this moment, and because of his stature, all Goldmann had to do to get a meeting with the President, any president, was to pick up the 'phone and call the White House. But this time, for the first time ever, he was not connected to the President and his call was not returned. Goldmann then asked somebody else who was about to meet with President to tell him that he, Goldmann, was requesting a meeting. When the message was delivered, Carter shook his head and said, sadly and with genuine regret: "I'm under enormous pressure from the Zionists. I can't meet with Dr. Goldmann again. It's impossible."
Near the end of his life, deeply troubled by the fact that the Zionist lobby had broken President Carter's back, Goldmann gave this warning: "It (the Zionist lobby) is slowly becoming a negative factor. Not only does it distort the expectations and political calculations of Israel, but the time may not be far off when American public opinion will be sick and tired of the demands of Israel and the aggressiveness of American Jewry."
Now let's fast forward to today. There are signs that a small but growing number of Americans, including some in Congress, are not only sick and tired of Israel's demands, but are understanding that support for Israel right or wrong is not in America's own best interests. If this shift in American public opinion develops and hardens, it will obviously assist President Obama IF his commitment to work for the establishment of a viable Palestinian state is real.
Is it? Is Obama prepared to have a real fight with Netanyahu and all he represents and, if necessary, deliver a knock-out blow, or is he, Obama, only shadow boxing in the hope that such a play, together with his appealing rhetoric, will be enough to improve America's image in the Arab and wider Muslim world?
When Obama entered the White House I was not optimistic about the prospects for real change in America's approach to the Israeli-Palestinian conflict. My initial thinking on what could really be expected from him with regard to the Israeli/Palestinian conflict was conditioned in part by Rashid Khalidi's assessment. In the closing months of the race for the White House, his reading of his friend led him to say in private that we should "not expect anything of significance from President Obama in his first term." I recalled those words when President-elect Obama maintained a shameful silence during Israel's war on the Gaza Strip. In my view that offensive was a most shocking and awesome demonstration of Israeli state terrorism, war crimes and all.
And then, soon after Obama had settled into the White House, there were indications that he was intending to change America's approach to the Israeli-Palestinian conflict, and to do so without too much delay.
The first indication was his appointment of George Mitchell as his special envoy to the Middle East. (I took that appointment to mean that President Obama was not confident that he could rely on inputs from Secretary of State Hillary Clinton because she might be too much under the influence of the Zionist lobby. I now think Hillary had a sense of Obama's concerns, and that explains why, to date, she has reinforced Obama's positions which are not to the liking of Zionism's hawks in Israel and their lobby in America. And that in turn explains why Hillary is now being attacked, verbally, by the lobby).
The second indication was, of course, Obama's demand that Israel stop all new settlement construction on the occupied West Bank, including what the Israelis disingenuously call "natural growth".
Now… If Rashid Khalidi's assessment of what could be expected of President Obama was correct at the time it made it, something changed to cause the new president to risk an early confrontation with Zionism. What could that something have been?
My guess is that in-coming President Obama took former President Carter's advice. I'll now tell you why I think I know what that advice was.
Shortly after Jimmy Carter ceased to be president, I was invited to meet with him at The Carter Center in Atlanta. The message from his intermediary invited me to bring my wife because Jimmy and Rosalind worked as a team. Jimmy was aware that I had been the linkman in a secret, exploratory dialogue between PLO chairman Yasser Arafat and Shimon Peres, then the leader of Israel's main opposition Labour Party and who was hoping to win Israel's next election and deny Begin a second term as prime minister. Carter wanted me to brief him on my mission and, more generally, to add to his knowledge of reality on the Palestinian side. (Incidentally, the full, inside story of my shuttle between Arafat and Peres is told in The Blood Oath, Chapter 35 of Volume Two of the UK hardback edition of my book. Some copies of it are available here tonight at a significant discount price).
One of the many revelations in my book is that every American President has to put up with the presence in his White House inner circle of a Zionist minder. The minder's job is to keep the Zionist lobby informed of any policy initiatives the president might be planning which would not be to Zionism's liking. That gives the lobby the necessary lead time to organise its stooges in Congress to block the president, or at least to make life very, very difficult for him.
On arrival at The Carter Center with my wife I discovered that Zionism's presidential minder system was still in place. Even out of office, Carter had to be watched and monitored. It was, in fact, Zionism's Carter Center minder who received my wife and I. He assumed that he was going to sit in on our conversation with the former president, but as the minder was closing the door on the five of us, Carter waved him away and said with good humor: "Your presence is not necessary, Ken. We can handle this alone." That was not, however, the last we saw of Ken. After we said goodbye to Jimmy and Rosalind, he insisted on taking us for an early dinner. His purpose was to pump me for information about what Carter had said. (One implication was that Carter's office was not bugged).
During our conversation with the former president and first lady, Carter said that any American president had only two windows of opportunity for confronting the Zionist lobby – THE FIRST NINE MONTHS OF HIS FIRST TERM and THE LAST YEAR OF HIS SECOND TERM if he had one.
Why only in the first nine months of the first term? The short answer – I knew it, Carter didn't have to spell it out – is that from about Month 10 the fund raising for the mid-term elections starts. That's the beginning of the period when many of those running for a seat in Congress must speak from Zionism's script and do Zionism's bidding if they want to guarantee the funds for their election victory and/or the delivery of organised Jewish votes in close election races… And soon after the mid-term elections are over, the fund raising for the next set of elections including the race for the White House begins.
That said I want to emphasize in passing that I do NOT blame the Zionist lobby for playing the game the way it does – using its virtually unlimited funds to buy American politicians and, when necessary, putting its awesomely effective machine to work to deliver Jewish votes. I put it this way in my book:
It is the case that at critical moments the Zionist lobby was, and is, more the maker of U.S policy for the Middle East than American Presidents and their administrations. But that is not the main point. It is that American politicians, including their Presidents, always had a choice. THEY DID NOT HAVE TO DO THE BIDDING OF THE ZIONIST LOBBY. They chose to do it to serve their own short-term interests.
Put another way, The Zionists are only playing the game, ruthlessly to be sure, by The System's own rules. I blame most of all an American decision-making process which, because of the way election campaigns are funded and conducted, was, and still is, so open to abuse and manipulation by powerful vested interests as to be in some very important respects undemocratic.
During lecture and debating tours across America, I found myself saying on public platforms that the Zionist lobby had hi-jacked what passes for democracy; but I always added that it could not have happened without the connivance and complicity of America's pork-barrel politicians, Democrats especially.
Back to Obama….. I am in no doubt that Carter did advise him that if he was to have even a chance of starting and advancing a real peace process, he had got to make some opening moves quickly.
As I see it, Obama's demand for a complete stop to all Israeli settlement construction on the occupied West Bank is evidence that he not only took Carter's advice, but that he IS serious in his commitment to work for the creation of a viable Palestinian state. As I see it, the big question is not therefore whether Obama is shadow boxing or engaged in a real contest with Netanyahu. The big question is: Will Obama be allowed to win the fight, or, will he be obliged by Congress to throw in the towel even if he is ahead on points?
(In verbal parenthesis I'll add that whether or not a genuine and viable two-state solution is any longer possible, because of the extent of Israel's colonisation to date, is another big question, and one we might address in our discussion).
The problem of the moment is, of course, that Netanyahu has said "No!" to Obama on the matter of ending all new settlement construction. That not only blocks any possibility of starting a real peace process, it puts Obama's credibility with the Palestinians and the whole Arab and wider Muslim world on the line. If Netanyahu sticks to his "No", Obama will have the choice of backing down (as almost all of his predecessors have almost always done at crunch times) or bringing real pressure to bear on Israel.
How Netanyahu will play his hand from here on is not difficult to imagine. He will seek to avoid a major confrontation with Obama by dragging out settlement construction discussions for another three or four months. In doing that he'll be acting on the assumption that if he can get to September or October without real pressure from Obama, the start of the fund raising for America's next mid-term elections will put the Zionist lobby firmly in the driving seat, firmly enough to prevent Obama putting real pressure on Israel.
On the face of it, and if American politics follow their traditional course, Obama has only a few more months of his first term to put real pressure on Israel if that is what he wants to do.
That's a reasonable assessment but it assumes that in September and October and thereafter, the Zionist lobby will still be as awesomely powerful as it has been for many years past. Will that necessarily be so? It's possible to make a case for saying perhaps not.
President Obama is not only the first American President to fully understand the real dynamics of the making and sustaining of this conflict, and to be sensitive to the real concerns and needs of both Jews and Arabs (and other Muslims). He also knows that if he is to have more influence on Congress than the Zionist lobby at crunch times, he's got to create a constituency of understanding – meaning that he's got to see to it that more and more Americans are informed about who must do what and why for justice and peace in the Middle East. Put another way, Obama knows that the more Americans are informed, the less their elected representatives will be able to do Zionism's bidding when doing it is not in American's own best interests.
There was one particular passage in Obama's Cairo speech that was intended to be a wake-up call to all of his fellow Americans, a presidential plea for them to open their eyes to what is really happening on the ground in Israel/Palestine. It was the passage in which he spoke, powerfully and with feeling, about the "humiliations" the Palestinians suffer on a daily basis as the consequence of "occupation". Arabs and other Muslims everywhere didn't need to be told that. But for many and probably most Americans, the notion of the Palestinians being under Israeli occupation would have been something of a revelation. (I ought to be exaggerating to make a point, but I'm not. Many Americans have no idea about what has happened in Palestine).
With the mainstream American media still preferring to peddle Zionism's propaganda assertions without challenge, there are obviously limits to how far Obama himself can go in opening the eyes of his fellow Americans to who must do what and why if hope for peace on terms virtually all Palestinians and most Arabs and Muslims everywhere could accept is not to be abandoned. But there are no limits to what others could do.
In my view one of the tragedies of the present is that the Arab regimes are not doing what they so easily could do to help create in America the constituency of understanding that would greatly improve Obama's prospects of having more influence on Congress than the Zionist lobby at crunch time.
As some of us but sadly not many Americans know, there is a Saudi-inspired Arab peace plan on the table. And it's been there since March 2002 when it was approved by the Council of Arab States at a summit meeting in Beirut.
In return for a full Israeli withdrawal from all Arab territory occupied in the war of 1967, and Israel's acceptance of the establishment of a sovereign, independent Palestinian state in the West Bank and the Gaza Strip, with East Jerusalem its capital, Israel is offered a comprehensive and full and final peace and the complete normalisation of relations with the Arab world. As the text of the peace plan puts it, the Arab countries would "consider the Arab-Israeli conflict ended".
In fairness it has to be said that without clarification there is one point in the text of the Arab peace plan that makes it unacceptable to most Israelis and possibly/probably many other Jews. It's the paragraph that reads as follows:
Achievement of a just solution to the Palestinian refugee problem to be agreed upon in accordance with UN General Assembly Resolution 194.
That resolution, passed on 11 December 1948, called for the Palestinian refugees to be allowed to return to their homes provided they were prepared to live in peace with their neighbours, or be compensated for the loss of and/or damage to their homes if they chose not to return. Leaving aside the fact that Zionism's ethnic cleansing policy included the demolition of Palestinian homes to ensure that the refugees had no homes to return to, the problem for Israel with the letter and the spirit of Resolution 194 is this….. If all the Palestinian refugees wishing to return to their land did return, and if Israel inside its pre-1967 borders remained a democracy, there could come a time when Israel would be voted out of existence by its Arab majority.
On the face of it that alone is reason enough for Israel not to be interested in the Arab peace plan, but….. If Israel's leaders were seriously interested in peace on terms almost all Palestinians and most other Arabs and Muslims everywhere could accept, they, Israel's leaders, could have sought and obtained clarifications about how pragmatic the Arabs are prepared to be in final, good faith negotiations. Israel's leaders could have discovered, and still could discover, that the pragmatic Arabs are prepared to accept that the return of the refugees will be limited to the territory of the Palestinian state. In other words: The matter of the return of the refugees does not have to be an obstacle to peace UNLESS ZIONISM WANTS IT TO BE.
If they were seriously interested in peace, Israel's leaders could also seek and obtain clarification of how pragmatic the Arabs are prepared to be in final negotiations on the status of Jerusalem. Yes, the Arab peace plan calls for East Jerusalem to be the capital of the Palestinian state but….. The Arabs are completely open to the idea of an undivided and united Jerusalem as the capital of two states. So the status of Jerusalem does not have to be an obstacle to peace UNLESS ZIONISM WANTS IT TO BE.
In reality, and as Israel's leaders could easily discover for themselves if they were seriously interested in peace, the Saudi-inspired Arab peace plan of March 2002 – actually no different from what Arafat was prepared to accept many years ago – offers a full and final peace on terms which any rational government and people in Israel would accept with relief.
Now a question: If Americans in sufficient numbers could be made aware of that reality, would President Obama's prospects for successfully confronting Netanyahu and the Zionist lobby be greatly improved? I think the answer is YES, and not least because AIPAC, the cutting edge of the Zionist lobby in America, actually speaks for not much more than one quarter of Jewish Americans. It's also worth noting that according to the latest poll by Real Clear Politics, Congress's approval rating is down to 36% and its disapproval rating up to 53.7%.
So another question: What could and should the Arab regimes do to help create a constituency of understanding in America that would enable President Obama to do what Nahum Goldmann advised President Carter to do – break the Zionist lobby's stranglehold on Congress?
The short answer is that they could throw money – tens and if necessary hundreds of millions of dollars – at promoting their peace plan and understanding of it. Zionism buys American politicians. The Arab regimes (or agencies for them) could buy television, radio, newspaper and magazine advertising space.
Just imagine, for example, a whole page advertisement in the New York Times. It could include, top left, a picture of President Obama, and, top right, a picture of Arab leaders at the March 2002 summit in Beirut. The lead text could be something like President Obama called for a two-state solution in June 2009. Arab leaders offered that to Israel in March 2002. Etcetera, etcetera.
The Arab regimes (or agencies for them) could even buy television stations and newspapers – do a Rupert Murdoch. (Right now, for example, CNN is in real financial trouble, as are very many of America's media institutions).
Simply stated, there is no reason why most Americans should remain ignorant of the fact that so far as virtually all Palestinians and most other Arabs and Muslims everywhere are concerned, PEACE AND SECURITY FOR ALL IS THERE FOR THE TAKING – if Israel stops behaving, or can be stopped from behaving, as a criminal state and complies with the requirements of international law, and ends its defiance of the will of the international community as expressed in UN resolutions.
Though Zionism doesn't want the world to know it, the reality I've just summarised includes the fact that Hamas is firmly on the record as saying that it could and would live with the two-state solution of the Saudi-inspired Arab peace plan. This is Hamas's real position because its leaders are not stupid. They don't like the two-state solution because it doesn't go far enough to right the wrong done to the Palestinians by Zionism. But Hamas's leaders know they would have no choice if Israel agreed to the creation of sovereign, independent Palestinian state in the West Bank and the Gaza Strip, with either East Jerusalem as its capital or an undivided and united Jerusalem the capital of two states. Why would Hamas's leaders have no choice? Because the two-state solution is still what the vast majority of Palestinians are prepared to settle for. (In verbal parenthesis I'll add that for how much longer that will remain the case is a good question).
The real positions of Hizbollah and Iran are also not what Zionism asserts them to be. In reality both Hizbollah and Iran are prepared to accept whatever the Palestinians accept.
I am sometimes asked why I think Netanyahu is giving propaganda and political priority to asserting that Iran is seeking to acquire nuclear weapons to destroy Israel. My answer is in two parts.
In order to justify its crimes – past, present and future – Zionism must have enemies it can present as representing a threat to Israel's existence. As I demonstrate in documented detail in my book, Israel's existence was never, ever, in danger from any combination of Arab military force. Not in 1948. Not in 1956. Not in 1967. And not even in 1973. Zionism's assertion to the contrary was the cover that allowed Israel to get away where it mattered most, in America and Western Europe, with presenting its aggression as self-defence, and itself as the victim when, actually, it was and is the oppressor. The more people become aware of this truth of history, the more Zionism needs, must have, a new enemy. It is Iran.
For the sake of argument, let's assume that Iran did possess a nuclear bomb or two or several. Would it then launch a FIRST STRIKE on Israel? Of course not! If it did the whole of Iran would be wiped off the face of the earth. No Iranian leadership will ever be that stupid. If Netanyahu and others of his kind really believe the nonsense they talk, they are deluded to the point of clinical madness.
The other reason why Netanyahu is playing up the alleged Iranian threat is to divert Obama's attention away from Israel/Palestine.
In conclusion for now I want to say this. You should not take anything I have said to be an indication that I believe the Zionist lobby's stranglehold on Congress will be broken. I am saying only that it could be broken IF President Obama is assisted to create a constituency of understanding in America – understanding of the fact that support for Israel right or wrong is not in America's best interests; and understanding of the fact that the Zionist state Israel, not the Arabs or other Muslims, is the obstacle to peace.
If you liked this post, then...
Share it with others using this button:
Follow me on Twitter (@alanauthor).