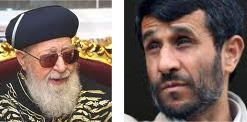 Short answer. Iran's President Ahmadinejad did NOT call for Israeli Jews to be annihilated. Rabbi Ovadia Yosef, the spiritual leader of Israel's Shas party, HAS called, more than once, for the Palestinians (and, in fact, all Arabs) to be exterminated.
As reported by the mainstream Western media, Ahmadinejad called for Israel to be "wiped off the map". What that meant, it was asserted, was the destruction, the driving into the sea, of Israel's Jews.
What Ahmadinejad actually called for was the de-Zionization of Palestine. His actual words were to the effect that he wanted the Zionist state to disappear as the Soviet Union had done. In other words, there would be a place in a de-Zionized Palestine for all Jews who wanted to stay and live in peace with their fellow Arab citizens.
As has been widely and accurately reported, Rabbi Yosef called on 27 August for the Palestinian Authority, its President Mahmoud Abbas and "all these evil people" (the occupied and oppressed Palestinians) to "perish from this world." How was this to happen? "God should strike them with a plague."
And what if God doesn't act in the way Rabbi Yosef wishes?
He gave his own answer to that in 2001 when his subject was the Arabs. He said: "It is forbidden to be merciful to them. You (the Israeli government and the IDF) must send missiles to them and annihilate them. They are evil and damnable."
But let us give credit where credit is due. Rabbi Yosef, unlike most others in Israel's political, military and spiritual leadership, is being honest. I mean only that he dares to say in public what he really thinks.
If you liked this post, then...
Share it with others using this button:
Follow me on Twitter (@alanauthor).