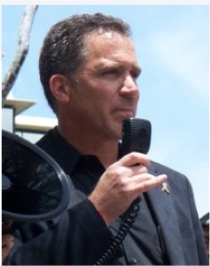 At last somebody has said it in the most explicit way possible. The somebody also said: "The problem is Zionism and the solution is dismantling the Zionist framework and instituting a secular democracy that does not discriminate between Israelis and Palestinians."
The somebody was Miko Peled, a Jewish peace activist who was born in Israel and lives in America.
He is the son of an Israeli war hero, Matti Peled, who was a young officer in the war of 1948 and a general in the war of 1967. After that war, General Peled signalled his own commitment to truth by rubbishing Zionism's version of events. He did so with the statement that there was not a threat to Israel's existence and that it was a war of Israeli choice (i.e. aggression not self-defense). General Peled was also one of a number of prominent Jews who called soon after the 1967 war for the immediate establishment of a Palestinian state on the West Bank and the Gaza Strip.
In his latest article from which my headline for this piece was extracted, Miko says that the two-state solution was clearly viable 40 years ago, but today…? He writes (my emphasis added):
"Now the West Bank is riddled with towns and malls and highways built on Palestinian land for Jews only and Israeli cabinet members openly discuss population transfers, or rather transfer of its non-Jewish population. The level of oppression and the intensity of the violence against Palestinians has reached new heights… Discussing the two-state solution now under these conditions shows an acute inability to accept reality… There is an illusion that a liberal, forward thinking government can rise in Israel and then everything will be just as liberal Zionists wish it to be. They will pick up where Rabin and Arafat left off and we will have the pie in sky Jewish democracy liberal Jews want so much to see in Israel. This illusion is shared by American Jews, liberal Zionists in Israel and around the world and in the West where guilt of two millennia of persecuting Jews still haunts the conscience of many. If only there were better leaders and if only this and if only that… But alas, reality continues to slap everyone in the face: Zionism and peace are incompatible. I will say it again, Zionism and peace are incompatible."
Miko adds that serious study of the history of modern Israel shows that "the emergence of Netanyahu and Lieberman was perfectly predictable."
I agree and offer this summary explanation of why.
Zionism is not only Jewish nationalism which created a state in the Arab heartland mainly by terrorism and ethnic cleansing. It is also a pathological mindset. In the deluded Zionist mind the world was always anti-Jew and always will be. It follows that Holocaust II (shorthand for another great turning against Jews) is inevitable. It follows that there can be no limits to what Zionism will do in order to preserve nuclear-armed Greater Israel as a refuge of last resort for all Jews everywhere when the world turns against them.
When I was reflecting on Miko's main point, that Zionism and peace are incompatible, I found myself wondering why really it is that American presidents will not use the leverage they have to try to call the Zionist state to account for its crimes when doing so would clearly be in America's own best interests.
I'm beginning to think that the awesome influence of the Zionist lobby and its stooges in Congress is not the complete answer. And the question I am asking myself is this: Could it be that all American presidents know there is nothing nuclear-armed Israeli leaders would not do if they were seriously pressed to make peace on terms which they believed in their own deluded minds would put Israel's security at risk? Always in my own mind is what Prime Minister Golda Meir said to me in a BBC Panorama interview and from which I quote in my book – in a doomsday situation Israel "would be prepared to take the region and the whole world down with it."
If it is the case that American presidents are frightened of provoking Israel, the conclusion would have to be that the Zionist state is a monster beyond control and that all efforts for peace are doomed to failure.
Is the situation really as bad as that?
My own answer is yes. But there are some observers who think that after the mid-term elections in America there might be one more opportunity for President Obama to bring enough Israelis to their senses in order to give peace its very last chance.
This new hope has been inspired, apparently, by reports of a forthcoming Palestinian (and presumably wider Arab) initiative to have the Security Council recognize Palestinian independence within the 1967 borders.
In Ha'aretz on 20 October, Aluf Benn wrote this:
"Israel's diplomacy has reached a turning point. Instead of dealing with the failed direct talks, from this point Israel will be orchestrating a diplomatic holding action against the Palestinian initiative to have the UN Security Council recognize Palestinian independence within the 1967 borders. Such a decision would deem Israel an invader and occupier, paving the way for measures against Israel. Obama could scuttle the process by casting an American veto. Would he do it? And at what price?
"Barak is warning Netanyahu that Obama is determined to establish a Palestinian state, even if it requires political risks. The president doesn't have to come out publicly against Israel, but can simply stand on the sidelines when the Security Council recognizes Palestine. The international movement to boycott Israel will gain massive encouragement when Europe, China and India turn their backs on Israel and erode the last remnants of its legitimacy. Gradually the Israeli public will also feel the diplomatic and economic stranglehold.
"It's not certain that this will happen."
We shall see.
If you liked this post, then...
Share it with others using this button:
Follow me on Twitter (@alanauthor).