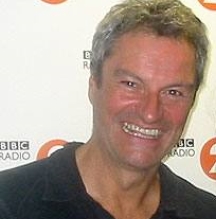 With thanks to ITN and the BBC's Gavin Esler, I simply can't resist giving this little story wider circulation. It came to me in ITN's 1955 Club Newsletter. (I receive it monthly as a member of the club).
The story as told by Gavin Esler and reported by the newsletter:
Recently, when I arrived in the USA from London I was stopped as usual by the immigration authorities. I handed over my passport, my completed immigration and customs forms, was fingerprinted and photographed.

"Why are you here?" the Homeland Security lady asked me.

"Because I am reporting on the President's scheduled announcement of a big increase in US troop numbers in Afghanistan."

"Who do you work for?"

"The BBC."

"How do you spell that?"

Hmmm. A tricky one. How do you spell BBC?

"Er, B…B…C…"

The lady looked at me.

"Do you have any identification?"

"You're holding my passport," I said, with a smile.
It's said that only nine percent of Americans have passports. A fact, if true, I'm sure it is, that explains a lot.
If you liked this post, then...
Share it with others using this button:
Follow me on Twitter (@alanauthor).